The Stony Brook model of teaching News Literacy uses a combination of heavily illustrated lectures followed by hands-on exercises to help students understand how journalism works and why information is such a powerful force for good and ill in modern societies. We work with educators in all sorts of contexts (classroom teachers, college professors, librarians, community leaders, ect…) in providing training, coaching opportunities, and teaching resources, including powerpoint presentations, case studies, and lesson plans, among others.
To get started with working with our materials, here are a few links to specific resources to help you get up to speed, and also find in-person training opportunities in New York and Illinois.
---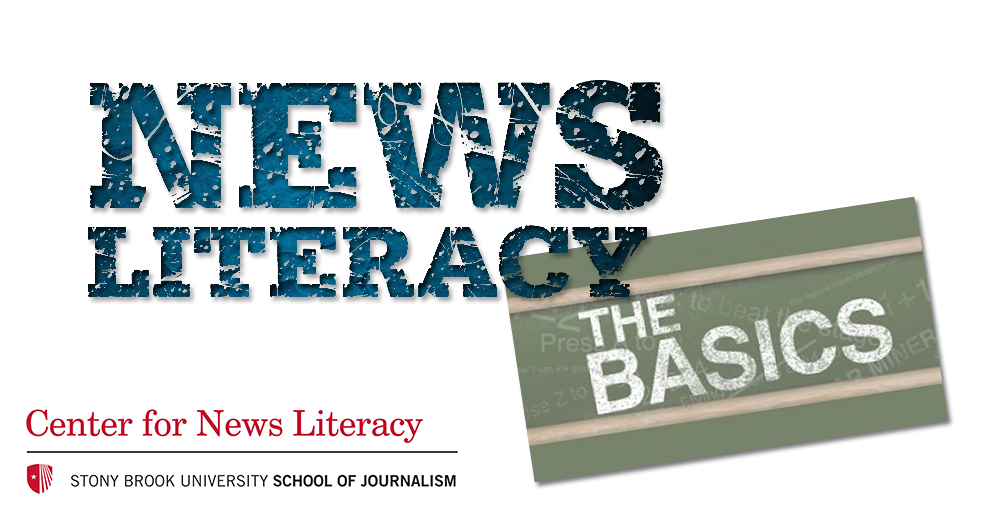 This online "CourseBook", is intended to give you a "jump-start" to the Stony Brook model of teaching News Literacy and is usually given in advance of an intensive in-person training workshop. The material, while not comprehensive, should give you a basic understanding of the course concepts and major lessons points.
Get a taste of our video-based News Literacy MOOC (full course on Coursera here) through this student digital library that we've set up for teachers that wish to implement our materials into a "flipped" classroom model, allowing students to learn the basics concepts on their own, to facilitate discussion in the classroom.
See this page for further opportunities to learn more about our model of teaching News Literacy, and get linked to more resources, including in-person trainings in New York and Illinois, watch video examples from our educational partners, and more!
Click the link above for a sample lesson packet developed in conjunction with teachers from Maine East High School in Park Ridge, Illinois for direct instruction materials to use in your classroom. Includes Google Slides presentation, student worksheet, and homework assignment adapted from our "Know Your Neighborhood" lesson.
If you like these, and want to learn more about using our materials in your classroom, please contact Michael Spikes at michael.spikes@stonybrook.edu